The National Convention and Exhibition Center (Tianjin) is jointly built by the Ministry of Commerce of the People's Republic of China and Tianjin Municipal People's Government, with a total investment of CNY 18 billion. It is an important platform for realizing China's economic development strategies, promoting the construction of the northern economic centre, optimizing the strategic layout of the development of the national convention and exhibition industry, and creating a new height of global convention and exhibition. It is a landmark project that serves the coordinated development of Beijing, Tianjin, Hebei and "Three North" regions and undertakes the relocation of Beijing's non-capital functions. It is the third national pavilion set up by the Ministry of Commerce of the People's Republic of China after Guangzhou and Shanghai, a national platform that serves national strategies and promotes Tianjin's opening up to the outside world.

National Convention and Exhibition Center (Tianjin), as a flagship platform for conventions and exhibitions in north China, will adopt the development model as "Conferences combine with and driven exhibitions. Exhibitions promote conferences. The theme of heavy industry and light industry should be combined, and the light and heavy industries be coordinated. Combining trade in goods with trade in services, creating a new engine for high-end service industry" and will become an international first-class exhibition complex with continuous leading ability.
| The design of exhibition hall is international and grand.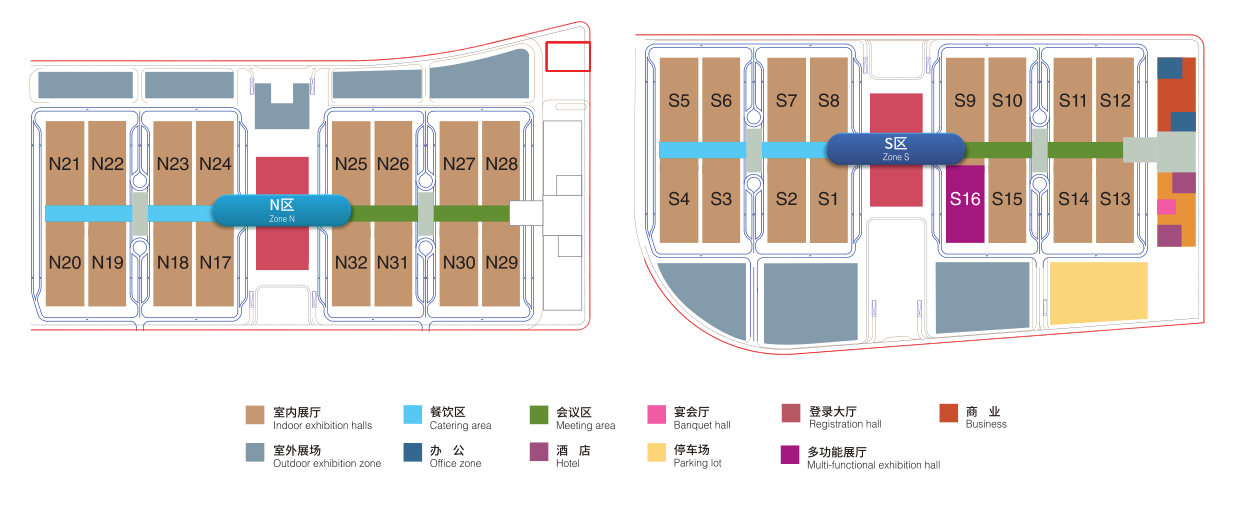 The National Convention and Exhibition Center (Tianjin) is large in size and neat in shape, integrating exhibition, conference, business, office and hotel functions. The total construction area is about 1.38 million square meters and it is jointly designed by GMP Architekten (German company) and China Academy of Building Research.
The center boasts 550,000 m2of total indoor and outdoor exhibition areas, more than 9,400 parking spaces, 320,000 m2 of commercial facilities, and 110,000 m2 of truck waiting areas. When fully completed, it will become the largest exhibition center in north China with the best user experience, the world's leading new generation of green, smart and innovative national convention and exhibition complex, and an ideal venue for holding national and international exhibitions and conferences.
| The pavilion has complete facilities and powerful conference functions.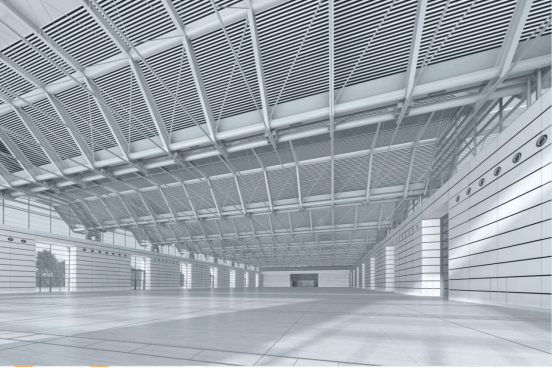 The entire exhibition hall is composed of 32 single-story column-free exhibition halls. Its water and power facilities are designed according to industrial exhibition standards. Adjacent exhibition halls can easily form a larger exhibition space. A single exhibition hall covers an area of 12,500m2, supports a power capacity of 3600KW, a lifting point of 200KG, and a load of 5-8 tons. Outdoor exhibition spaces can bear 10 tons of load, which can support large-scale heavy industrial exhibitions. Each exhibition hall has 4 sets of 6 m wide and 6.6-7.7 m high swing doors, allowing direct access for trucks. There is a 110,000m2 truck waiting area, which can accommodate 600 container trucks at once. The waiting area is directly connected with internal loop space, while internal loop space connects exhibition halls to realize the diversion of passengers and goods.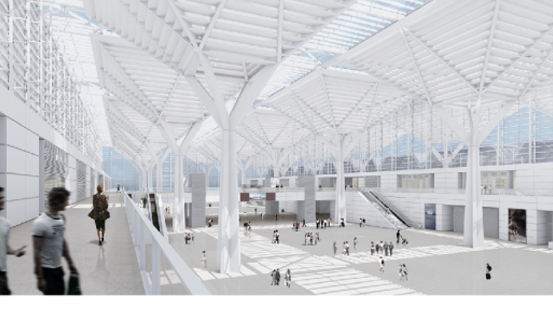 The central hall of the pavilion, with a floor area of 28,000 square metres, will be the grandest one in China. It is used for registration, ticket inspection, security check, and visitor distribution. What's more, 4 VIP reception areas in it can meet the needs of opening and closing ceremonies of exhibitions and large events.
Conference functions are powerful and business travel facilities are complete.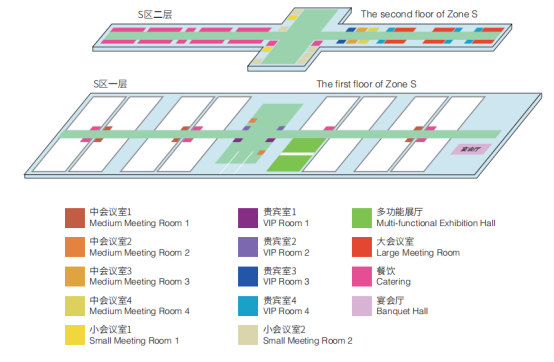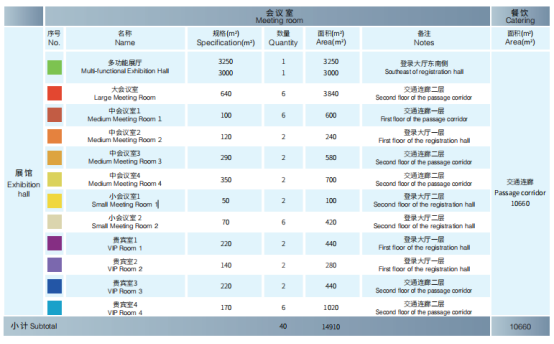 | Three-star Green Pavilion
NCEC (Tianjin) is constructed in accordance with the highest three-star standards for green buildings and adopts a number of industry-leading architecture and smart pavilion technologies. It is committed to building the best super-large exhibition hall in China and becoming the best venue to undertake national and international conferences and exhibitions.
NCEC (Tianjin) is located in the ecological barrier of Tianjin, surrounded by forests and Haihe River with stunning scenery. It is designed as an ecological pavilion based on the concept of sustainable development, with a large number of green plants, landscapes and other ecological elements. It employs 88 low-carbon, environmentally friendly and energy-saving green technologies such as prefabricated building, ground-source heat pumps, and solar photovoltaic, which provides an ecological space close to nature for exhibitors and visitors. The landscape planning and design of the section of NCEC on Hai Nan Nan Road will create an "ecological living room" for Tianjin.

NCEC (Tianjin) cooperates with Huawei to strategically empower exhibition halls with smart facilities. It provides intelligent services to meet actual needs of domestic and foreign customers and builds a smart exhibition hall system based on the exhibition platform.
| Convenient Transportation
The comprehensive four-dimensional transportation network of sea, land, air and rail makes Tianjin an important transportation hub in north China and the world. NCEC (Tianjin) has opened channels for transportation of large cargoes for exhibitions and provide "one-stop" transportation services, which facilitate the rapid distribution of people and goods, and offers unique advantages for developing Tianjin into a gateway for exhibitions in north China.